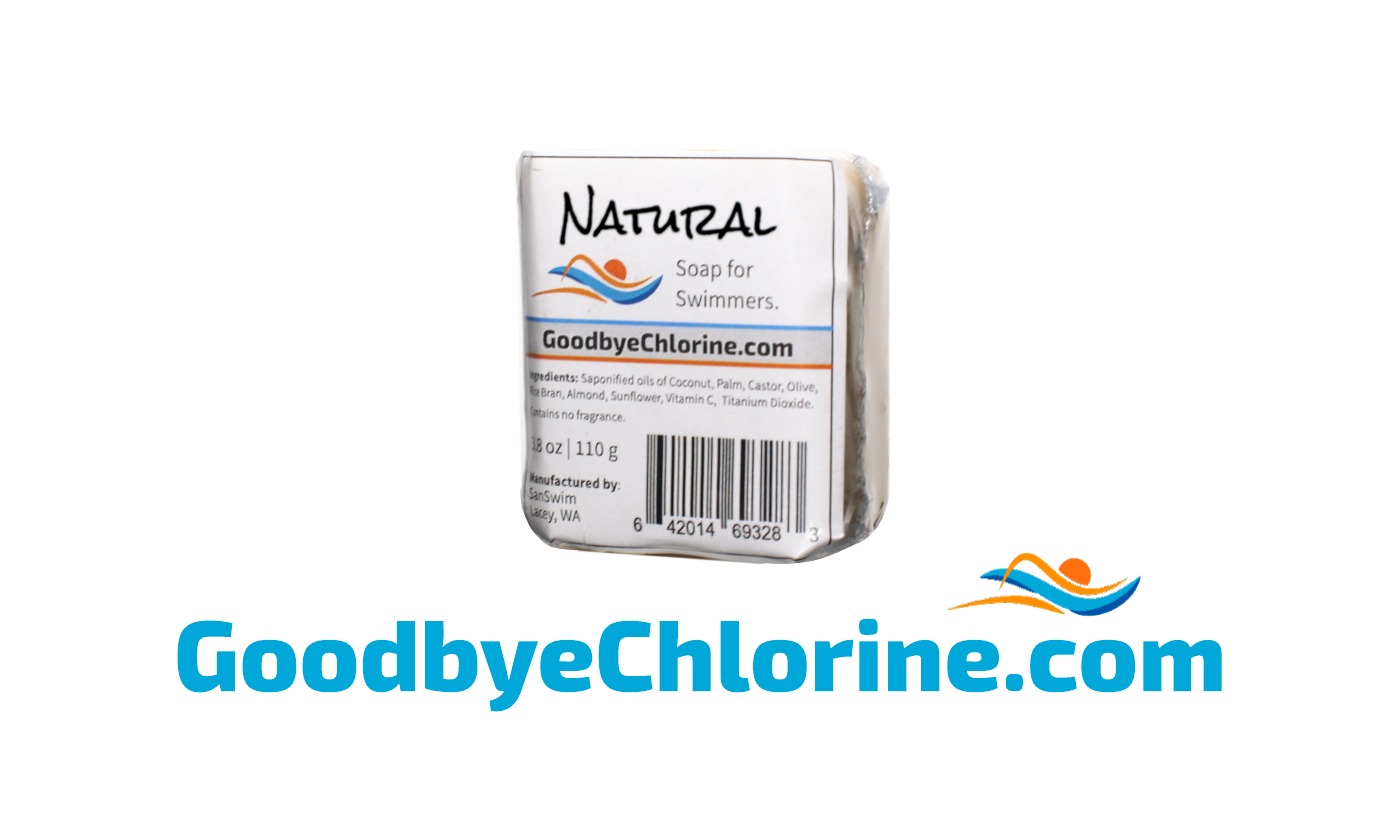 Chlorine has two personalities: one that is fantastic at sanitizing pool water, and one that can severely damage your hair and skin. Goodbye Chlorine makes Anti-Chlorine Soap, Shower Gel, Shampoo, Conditioner, Chlorine Removal Spray, and other styling products that get the chlorine off.
Organic matter attracts chlorine. And for that reason, your hair and skin attracts chlorine. Not only does chlorine disinfect the pool, it does a great job of sanitizing you too! While you are swimming, chlorine forms a strong bond to your hair and skin. This bond is so strong, that special anti-chlorine products are needed to release it.
Anti-Chlorine Soap
Goodbye Chlorine's anti-chlorine soap may look like regular soap, but it's special formulation is anything but regular. Our anti-chlorine soap releases the strong bond chlorine has with your skin and then gently remove it. Our soap is very emollient (think soft and moisturizing). We've made it this way because chlorine strips oils from your skin and leaves you feeling dry and itchy. Our soap is extremely mild. It's effective at removing chlorine and starts the process of returning your skin to its natural state.
Pictured to the left, is our Tea Tree anti-chlorine soap. We also have our Original anti-chlorine soap. If you would like a soap without fragrance, try the Natural Chlorine Removal soap.
If you prefer your soap to have a mild exfoliating effect, try our Morning Swim Soap. It has coffee grounds that are amazing!
Anti-Chlorine Shower Gel
Goodbye Chlorine's Original Shower Gel for swimmers is a terrific option after swimming. This is not an ordinary shower gel. First and foremost, our shower gel releases the chlorine bond. Because chlorine forms a strong bond with your body, specialty products are needed to get it off.
Our shower gel contains special ingredients that release and gently remove the chlorine.
Try our Original or Mango shower gel.
Our shower gel will eliminate the lingering chlorine odor and help stop the damaging effects like dry, itchy skin.