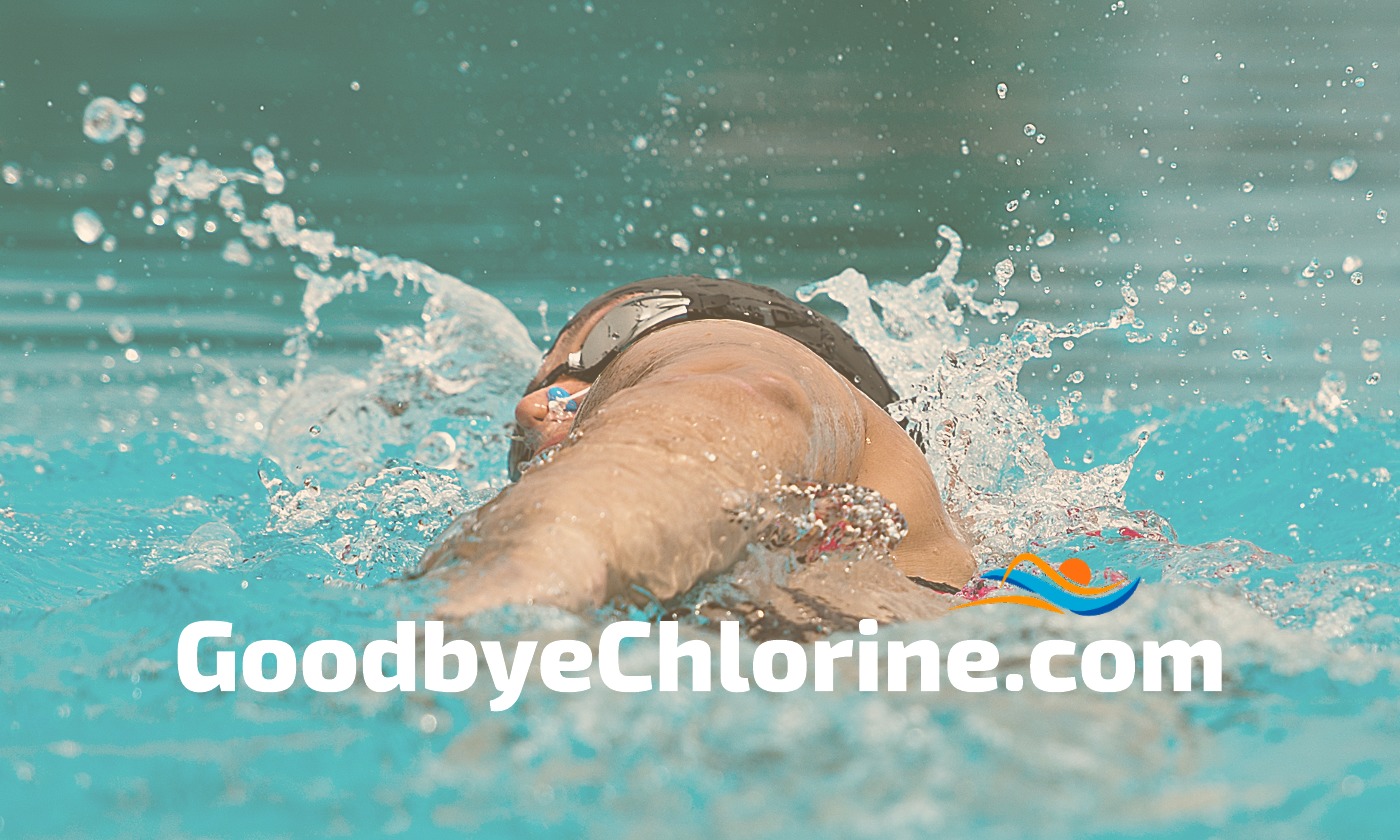 The ELITE Anti-Chlorine Conditioner by Goodbye Chlorine is a hair conditioner like none other. Really, it's that unique. Yup, and we're not just saying that because we make it. Read on, and we'll make our case for the best conditioner a swimmer ever had.
Does your hair feel crunchy and smell like chlorine?
Are you tired of the damage chlorine does to your hair and skin? We are grateful chlorine is IN the pool, but that's where we would like to keep it. Unfortunately, while swimming, chlorine forms a strong bond with your hair. And since normal hair products don't release chlorine, the pool chlorine begins to accumulate on your hair. After swimming day in and day out, your hair becomes damaged and brittle–otherwise known as "swimmer's hair"–not to mention it becomes permeated with a chlorine odor.
Accumulation of chlorine causes swimmer's hair.
This accumulation of chlorine is what causes swimmer's hair. When your hair is healthy, it is acidic and this acidity causes the cuticles to lie flat. The cuticle is the outer layer of your hair. It's a scale-like structure that locks together and holds moisture in your hair shaft. But chlorine is alkaline. When chlorine accumulates on your hair it changes the pH of your hair and your cuticles lift. When the cuticles lift, your hair feels rough, dry and becomes brittle. This is what's known as swimmer's hair.
Five big ideas to fix and prevent swimmer's hair:
Do your best to keep chlorine off in the first place.
You most likely already do this, but it is worth mentioning for those who don't. Wet your hair before swimming and wear a swim cap. Both provide some protection against chlorine. Since your hair absorbs water like a sponge, wetting it first makes it more difficult for the pool water to be absorbed. A swimming cap provides a physical barrier between the pool water and your hair. As they say, an ounce of prevention goes a long way.
Neutralize chlorine.
Not all personal care produces are created equal. Use products that are swimming-specific and check that they are formulated to neutralize chlorine. Since chlorine forms a strong bond with your hair and skin, formulations that release the chlorine bond will work best.
Add Moisture back into your hair.
Chlorine lifts the hair cuticles and strips the moisture from your hair. Hair conditioners that contain a lot of moisturizers–and a variety of them–will work best.
Restore pH.
Chlorine is alkaline and causes your hair cuticles to lift exposing the inner hair shaft and allowing moisture to escape. After moisturizing, it is important to lower the pH of your hair. When you do, your hair cuticles will lay flat and lock in the moisture. Your hair will look shiny and feel smooth.
Remove residual impurities.
Search for products that neutralize and gently wash away chlorine.
Original Hair Conditioner for Swimmers
ELITE anti-chlorine conditioner addresses all these factors to make a complete hair care product for avid and elite swimmers.
First of all, it is formulated to neutralize chlorine. It effectively reduces chlorine on contact. Just work the conditioner through your hair like you would any hair conditioner.
Second, the Original Hair Conditioner Plus contains tons of conditioning oils including: Olive Oil, Coconut Oil and Rice Bran Oil as well as many other ingredients that both condition and nourish your hair.
And third, the conditioner is formulated to begin returning your hair to it's natural pH. This is important so your cuticles will lay flat and make your hair healthy and shiny.
Best of all, our hair conditioner was formulated by ELITE swimmers who know a thing or two about dealing with the damaging effects of chlorine. Our brand is your guarantee of the quality and effectiveness of our products.
The Original Hair Conditioner is truly amazing and should be every swimmer's essential hair care product.